Chiropractor David Huff D.C.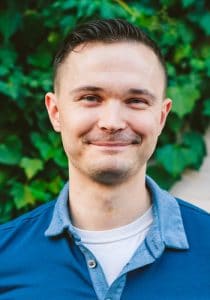 Dr. Huff may look young, but this DC already has more experience than many retiring chiropractors.
After returning thousands of patients to health and healing from Colorado to North Carolina, he's now ready to heal his hometown from the inside out.
Born and raised in Greensboro, Dr. Huff graduated from Greensboro Middle College at the top of his class, and then received his Kinesiology degree from UNCG before heading onto get his Doctor of Chiropractic. At Logan College of Chiropractic in St. Louis, Dr. Huff was also in the top of his class, and received prestigious awards for his excellence-one because he had taken more extra educational programs than any other chiropractor in his class (500 extra hours!), and another because he was the class' best representative of Chiropractic Science-selflessly and passionately mentoring young DCs into chiropractic excellence.
Dr. Huff understands you may have had negative experiences with chiropractors before-either being too pushy with overly-expensive care plans, not thorough enough for your individual needs and goals, or painful with their adjustments. He works to make chiropractic affordable and approachable for Greensboro families-in a no-pressure, honest environment. He has chosen adjustments that use a table with drops and a very specific tool (the integrator-most specific tool available…no other Greensboro chiropractor has one) to offer you the most gentle and effective adjustment possible.
Reach him at drhuff@goodhealthgreensboro.com
---
AMANDA SZABO-HUFF, MA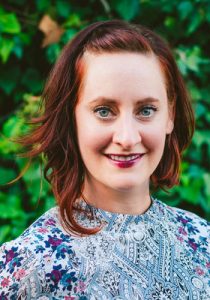 Dr. Huff's wife, Amanda Szabo-Huff, MA came to Greensboro as an undergraduate at Guilford College. She served Greensboro as an Americorps VISTA for two years and fell in love with the city's parks and trees, diversity, and down-to earth people. She received her Masters in Communication from UNCG, where she met Dr. Huff before he left for Chiropractic school. She is finishing her doctorate in Organizational Communication at the University of Colorado Boulder, where she was chosen to deliver a TEDxBoulder talk about her research on relationships and local economic resilience. Taking her heart for service, personal connection, and Greensboro, she handles Good Health Greensboro's community relations, marketing, brand, and mission.
Reach her at amanda@goodhealthgreensboro.com.
---
KARLA REYES, FRONT DESK RECEPTIONIST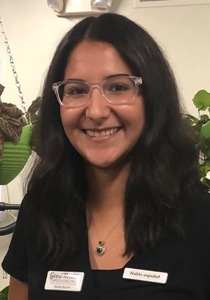 Karla Reyes was born and raised in Eastern, North Carolina. She moved to Greensboro 4 years ago to attend UNCG. She graduated in May of 2019 with a Bachelor's of Science in Business Administration where she was a scholar in the UNCG Guarantee scholarship program. Karla loves to travel, and her favorite destinations have been Paris, France and Madrid, Spain. In her free time, she enjoys hanging out with her friends eating out or watching movies. She has a love/hate relationship with horror movies and enjoys comedies. Karla is bilingual, speaking Spanish and English fluently, excited to serve patients from different backgrounds! She joined this team when Good Health Greensboro first opened and is excited to be back and continue to serve Greensboro. Her favorite parts of being on the Good Health team is getting to see the health and happiness transformation our patients go through from their initial evaluation into their transition to wellness care as well as being able to connect with patients and learn more about them, their lives, and their families.
---
DAISY HERNANDEZ, FRONT DESK RECEPTIONIST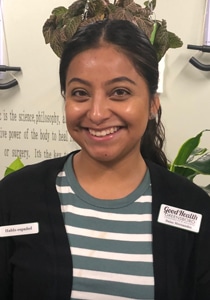 Daisy was born in New York where she raised her two beautiful daughters Aaliyah and Diami. She recently moved to Greensboro, North Carolina for a change in scenery. She fell in love with the environment that Greensboro presents as well as the caring people. She worked as a case worker for three years in New York helping low income families connect with local resources. Daisy enjoys playing the violin, singing with her daughters and helping heal Greensboro from the inside out. Her passion to help others makes her a great asset to our team. She makes it her mission everyday to help heal our patients one spine at a time.
Monday
10:00am - 12:00pm
2:30pm - 6:00pm
---
Tuesday
2:30pm - 6:00pm
---
Wednesday
10:00am - 12:00pm
2:30pm - 6:00pm
---
Thursday
2:30pm - 6:00pm
---
Friday
10:00am - 12:00pm
2:30pm - 6:00pm
---
Saturday
Closed
Good Health Greensboro: David Huff, DC
7 Battleground Court #104
Greensboro, NC 27408
(336) 509-4963